The Benefits of a Low Carb Diet: How Does Atkins Work?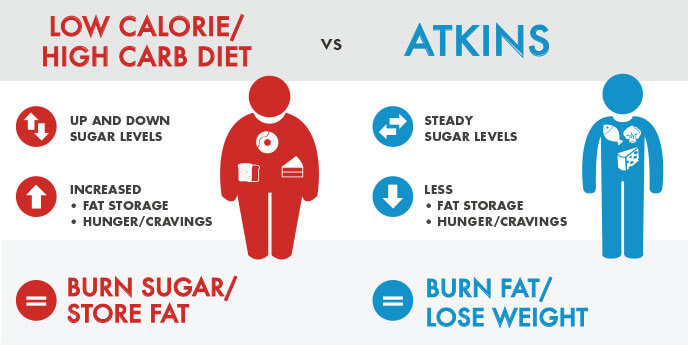 Not everyone's body responds the same way to different approaches to losing weight. The key is to find a
match for your body and metabolism.
Dr. Atkins, a well-known cardiologist, limited his patients' intake of sugar and carbohydrates. As a
result, many of his patients successfully lost weight and kept it off – even though they had previously been
unsuccessful on regular low-calorie diets!
The key was understanding that everyone's metabolism can use two different types of fuel for energy –
either sugar (and carbs that are quickly turned into sugar by the body), or fat. But the type of fuel you
burn can have a big difference in losing or maintaining weight. A typical diet reduces calories, but is
still high in carbohydrates (and thus sugar). As a result, many people constantly cycle between sugar
"highs" (where excess sugar is actually stored as fat in the body) and sugar "lows" (where you feel fatigued
and ravenously hungry – for more carbs and sugar). For many, it's really hard to lose weight that
way.
Atkins, on the other hand, limits carbohydrates (sugar), so the body burns fat, including body fat, for
fuel. This approach leaves the body steadily fueled, and weight is lost, even when more calories are being
consumed. Steady fueling also means more constant energy levels all day long, and less hunger and cravings!
You can actually lose weight while feeling full! The science behind the Atkins principles has been proven by
over 80 clinical studies!
If counting calories hasn't worked for you in the past – try Atkins – it may be the perfect approach for
you!
Choose Your Plan

»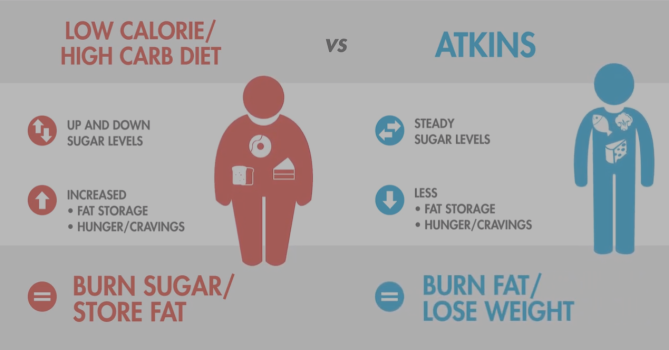 How a Low Carb Diet Works
A low carb diet focuses on limited carbohydrates to help the body burn fat instead of sugar for fuel. This contributes to higher, consistent energy levels throughout the day, allowing you to reach weight loss and weight maintenance goals.
Get Started
Find the Right Plan
Not everyone's body responds the same to every method, so we've broken out the Atkins diet into three easy-to-follow plans that fit your personal needs.
ATKINS 20®
Find out where to get started with our classic diet, which is right for you if you have more than 40 pounds to lose or are pre-diabetic or diabetic.
Learn More
ATKINS 40®
If you have less than 40 pounds to lose, need a greater variety of foods right from the beginning, or are pregnant or breastfeeding, Atkins 40 is for you.
Get started
Not Sure Where You Fit?
Choosing the right plan will depend on your weight loss goals, your current weight, and lifestyle. Learn more about the plans, or take a quiz to find out which one is right for you.
Recipes
Starting the Atkins Diet is easy when you have over 1,600 delicious and filling recipes to choose from! We've got you covered with fresh low carb inspiration for any time of day.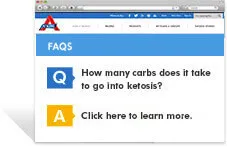 FAQ
Get answers to the most frequently asked questions about the Atkins Diet and the Atkins principles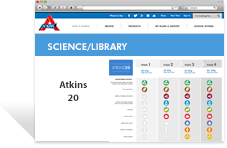 Science/Library
Read nutrition articles, learn the science behind Atkins, and sample the extensive amount of peer-reviewed published studies in major scientific journals demonstrating the effectiveness and the health benefits of the Atkins diet.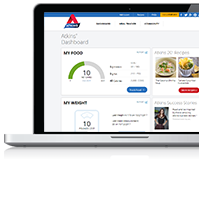 Free Weight Loss Tools
All the Atkins tools you need to succeed on the program, and they're all 100% free!