Beef Fajitas with Peppers Recipe
---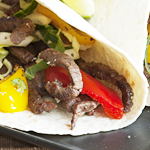 11.8g
Net Atkins Count TM
Prep Time: 10 Minutes
Style:Mexican
Cook Time: 10 Minutes
Phase: Phase 3
Difficulty: Difficult
* Any adjustments made to the serving values will only update the ingredients of that recipe and not change the directions.

How to Calculate Atkins Net Carbs
How to Calculate Atkins Net Carbs
Atkins Net Carbs = Total Carbohydrates – Fiber – Sugar Alcohols/Glycerin (if applicable)
×
---
INGREDIENTS
1 1/2 tsp Garlic

1 tsp Salt

1 fl oz Fresh Lime Juice

1 pepper Jalapeno Peppers

2 tsp Cumin

2 tablespoon Extra Virgin Olive Oil

32 oz, boneless, raw (yield after cooking) Steak

12 tortilla Low Carb Tortillas

1 tbsp Canola Vegetable Oil

1 medium (approx 2-3/4" long, 2-1/2" dia) Red Sweet Pepper

1 medium (approx 2-3/4" long, 2-1/2" dia) Green Sweet Pepper

1 small Red Onions

0 3/4 cup Green Tomato Chile Sauce (Salsa Verde)

0 3/4 cup Sour Cream (Cultured)

0 1/4 cup Cilantro (Coriander)
DIRECTIONS
Make marinade: In a large bowl or resealable plastic bag, combine minced garlic, salt, lime juice, finley diced jalapeno, cumin and olive oil; whisk together. Add steak and toss to coat well. Marinate, refrigerated at least 1 hour, preferably over night for the flavors to blend.
Heat oven to 350° F. Wrap tortillas in foil; place in oven to warm 15 minutes before serving.
Remove steak from marinade; discard marinade. Grill 5 inches over hot coals (or over medium-high heat) 3 to 4 minutes per side for medium-rare; set aside.
In a large skillet over medium-high heat, heat canola oil. Cook sliced bell peppers and onion for about 5 minutes, until vegetables are softened.
Slice steak thinly across the grain.
To assemble fajitas, spread tortillas with salsa, top with steak slices and vegetable mixture, sour cream, and chopped cilantro. Fold over and serve.
Cooking Tip
Whether you're feeding a family or cooking for one, you can update the serving settings above to reveal the required amount of ingredients.