Keto Crustless Spinach Quiche Recipe
---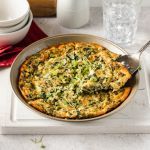 3.6g
Net Atkins Count TM
Prep Time: 20 Minutes
Style:French
Cook Time: 30 Minutes
Phase: Phase 1
Difficulty: Difficult
* Any adjustments made to the serving values will only update the ingredients of that recipe and not change the directions.

How to Calculate Atkins Net Carbs
How to Calculate Atkins Net Carbs
Atkins Net Carbs = Total Carbohydrates – Fiber – Sugar Alcohols/Glycerin (if applicable)
×
---
INGREDIENTS
2 tsp Canola Vegetable Oil

0 1/2 cup, chopped Scallions or Spring Onions

6 1/2 oz Frozen Chopped Spinach

4 large Egg (Whole)

1 cup Heavy Cream

1 cup, shredded Muenster Cheese

0 1/4 tsp Salt

0 1/4 tsp Black Pepper

0 1/8 tsp Nutmeg (Ground)
DIRECTIONS
Preheat oven to 350°F (175°C). Lightly grease a 9 inch pie pan.
Heat oil in a large skillet over medium-high heat. Add onions and cook, stirring occasionally, until onions are soft. Cut frozen spinach into chunks, add to skillet and continue cooking until spinach is warm through and excess moisture has evaporated.
In a large bowl, combine eggs, cream, cheese, salt, pepper and nutmeg. Add spinach mixture and stir to blend. Pour into prepared pie pan.
Bake in preheated oven until eggs have set, about 30 minutes. Let cool for 10 minutes before serving.
If using fresh spinach, add chopped spinach (or whole baby spinach) to the skillet with the onions two cups at a time with a tablespoon of water, cooking until the spinach begins to wilt before adding another 2 cups, until all spinach is wilted and moisture has evaporated before adding it to the egg mixture.
Cooking Tip
You could even add in some chopped peppers, mushrooms, or broccoli if you wish (just pay attention to net carbs whenever you add ingredients).