Keto Ricotta-Filled Pancakes Recipe
---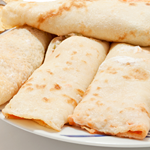 5.4g
Net Atkins Count TM
Prep Time: 10 Minutes
Style:Other
Cook Time: 5 Minutes
Phase: Phase 2
Difficulty: Moderate
* Any adjustments made to the serving values will only update the ingredients of that recipe and not change the directions.

How to Calculate Atkins Net Carbs
How to Calculate Atkins Net Carbs
Atkins Net Carbs = Total Carbohydrates – Fiber – Sugar Alcohols/Glycerin (if applicable)
×
---
INGREDIENTS
3 Tbsp Whole Grain Soy Flour

0 1/4 tsp Salt

0 1/3 cup Heavy Cream

0 3/4 cup Ricotta Cheese (Whole Milk)

3 large Egg (Whole)

4 tbsp Sugar Free Red Raspberry Preserves

2 tsp No Calorie Sweetener

1 1/2 tablespoon Unsalted Butter Stick
DIRECTIONS
In a medium bowl, whisk eggs, soy flour and salt until smooth. Gradually whisk in cream. Let stand 5 minutes. In another bowl mix ricotta, fruit spread and sugar substitute.
Melt butter in a small, 6-inch nonstick skillet over medium heat. Spoon batter into pan (using 2 tablespoons) and tilt pan coat bottom. Cook until puffed and golden on bottom, about 3 minutes; turn over and cook 1 minute more. Transfer to a plate. Repeat with remaining batter.
Spread pancakes with ricotta mixture, roll and serve.
Cooking Tip
Whether you're feeding a family or cooking for one, you can update the serving settings above to reveal the required amount of ingredients.