Whole-Grain Tart Shell Recipe
---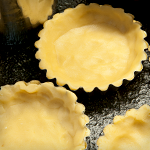 1.7g
Net Atkins Count TM
Prep Time: 30 Minutes
Style:
Cook Time: 20 Minutes
Phase: Phase 3
Difficulty: Difficult
* Any adjustments made to the serving values will only update the ingredients of that recipe and not change the directions.

How to Calculate Atkins Net Carbs
How to Calculate Atkins Net Carbs
Atkins Net Carbs = Total Carbohydrates – Fiber – Sugar Alcohols/Glycerin (if applicable)
×
---
INGREDIENTS
0 1/2 cup 100% Stone Ground Whole Wheat Pastry Flour

4 oz Vital Wheat Gluten

1 Tbsp Whole Grain Soy Flour

0 1/4 tsp Salt

0 1/2 cup Unsalted Butter Stick

1 large Egg Yolk

0 2/24 fl oz Tap Water
DIRECTIONS
In a food processor, pulse flours, salt and butter until texture resembles a coarse meal. Add yolk and water and continue pulsing until the dough just starts to come together.
Turn dough onto a sheet of wide plastic wrap, form into a ball and cover with another sheet of plastic. Flatten to a 7-inch disc and chill in the freezer for 10 minutes.
Roll dough out between the plastic wrap to a 13-inch circle (to facilitate rolling, occasionally remove plastic, dusting each side with 1/2 teaspoon of wheat gluten flour).
Remove the top sheet of plastic and invert dough onto a 10-inch removable bottom tart pan. Center dough and press onto the bottom and sides of the pan. Remove the remaining plastic and trim any excess. Chill in freezer for another 10 minutes.
Use unbaked crust as indicated in recipe of your choice. Or for a prebaked crust, preheat oven to 375°F. Line the tart shell with foil and add a layer of dried beans or pie weights.
Bake for 10 minutes. Remove the beans and foil, and bake an additional 5 to 6 minutes or until golden. Cool on a rack before using.
Cooking Tip
Whether you're feeding a family or cooking for one, you can update the serving settings above to reveal the required amount of ingredients.