Kaitlyn Nelson
Age 25
Life really is more enjoyable, and more fun when you feel good.

* The average person can expect to lose 1-2 lbs. per week. Results may vary. Weight loss is influenced by exercise, food consumed and diet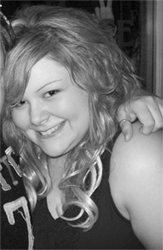 My Story:
As with any " lifestyle change ", the first couple of weeks were tough. There were times when I wanted to say " screw it ". My motivation was seeing how FAST the weight was coming off of me. Sometimes 10 pounds a week! And I was still eating cheese! ( LOL ) Here we are, almost a year later, and I have lost 70lbs. I feel healthy. I look healthier. I'm happier. I'm confident, and I actually believe people when they tell me that I am pretty now. Atkins changed my life!
My Goals:
My goals in the beginning of my weight loss journey were to get healthy, and feel better about myself. I've never been one to pay any attention to what " Society " thinks I should look like, so being super thin was never one of my Goals. Health and how I felt about myself were number one. My future goals are to maintain being healthy. Life really is more enjoyable, and more fun when you feel good.
How Atkins Helped Get Me There: Atkins helped me reach my Goal by allowing foods that I love, and couldn't bear to give up. I'm allowed to actually EAT. I've always been a heavier girl. I always felt like the " fat kid " in school, and was extremely self conscious. With the risk of sounding like a fad diet infomercial, I really had tried almost every diet out there. I either lost weight, but didn't keep it off, or couldn't stick with the diet. I had heard about Atkins, and did some research. A diet that allows cheese?!... I was sold.