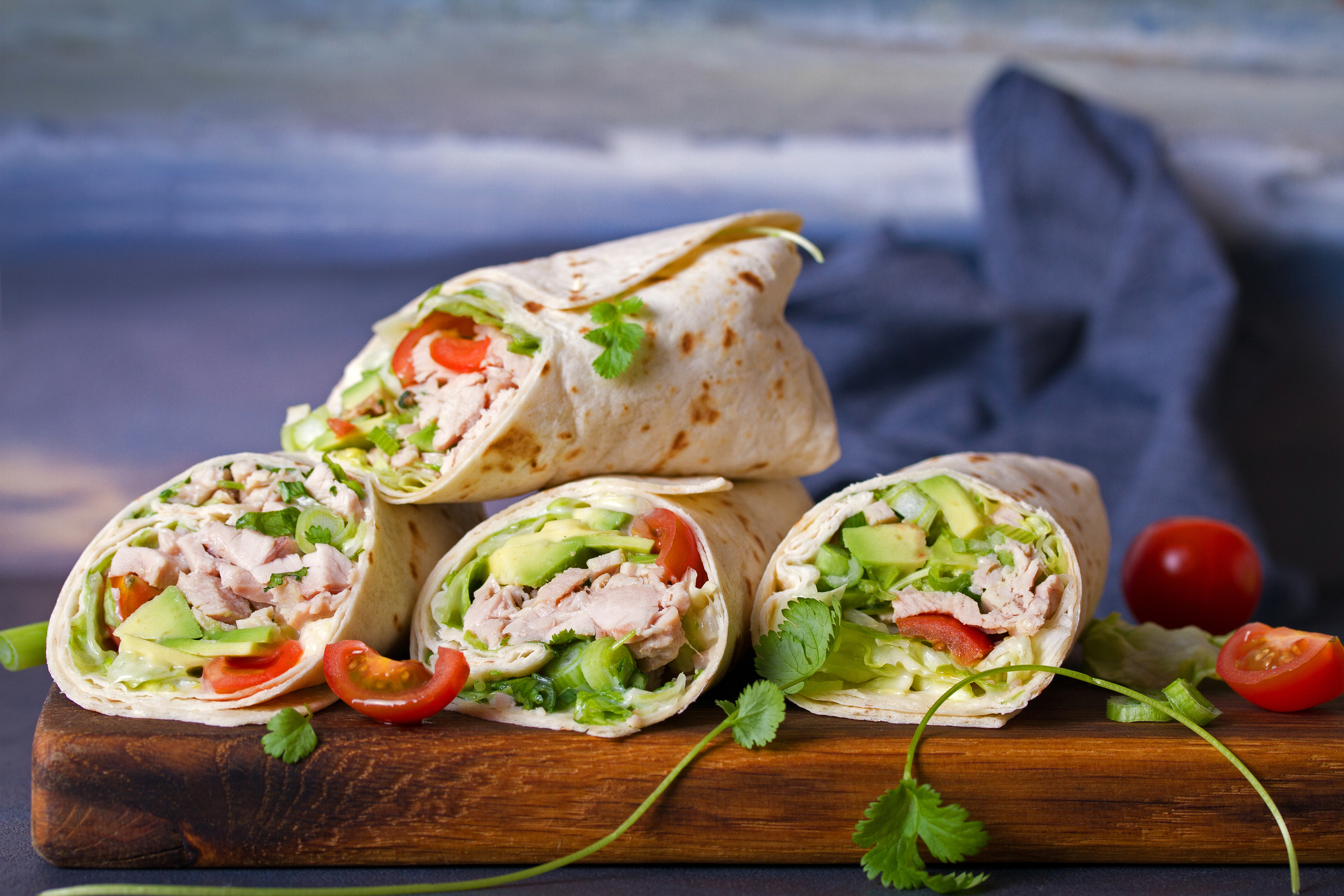 Are you ready to liven up your lunches? All it takes is a little planning and having the right ingredients on hand, and you can whip up a low carb wrap for lunch in minutes. A low carb wrap makes the perfect hand-held lunch and is a delicious departure from carb-heavy PB&J or that same-old salad. You can follow this basic blueprint for creating your own low carb wrap:
Start with the wrap. Keep low carb tortillas, pitas, wraps or sandwich thins on hand. You can freeze them for months if you store them in an airtight container such as a zip-top plastic bag. Just take them out a day or so before to defrost. You can also make a very veggie wrap by using romaine lettuce, cabbage, chard or kale leaves.
Spread it on. Layer on the flavor with hummus, guacamole or mashed avocado, sour cream, salsa, mayo, mustard, sriracha, green chili, low sugar barbecue or pasta sauce and more.
Add some protein. Pile on rotisserie chicken, canned tuna, salmon or chicken, sautéed shrimp, deli meat, shredded pork, diced steak, grilled portobella mushroom, tofu, tempeh or any plant-based meat.
Add variety with veggies. Try tomatoes, cucumber, avocado, tomatoes, spinach, bell pepper or whatever veggies you may have on hand.
Cheese? Yes, please! Mozzarella, Swiss, cheddar, pepper jack, Bleu, Gouda, cream cheese or goat cheese all fit the bill depending on the "theme" of your wrap.
Don't forget the extras. Fresh herbs like mint, basil or cilantro add brightness while slivered almonds, chopped peanuts or pumpkin seeds add a little crunch. Olives, pickles or diced jalapenos or other chilies give your wrap a kick.
Then it's time to wrap and roll. Once you've assembled your ingredients, wrap tightly, and enjoy. You can also layer on your toppings similar to a quesadilla, and fold and cook in a skillet for melt-y cheese and a crispy exterior.
Are you looking for more inspiration? Try these low carb wrap recipes:
Low Carb Grilled Chicken and Salsa Wrap

Low Carb Grilled Italian Hero Wrap