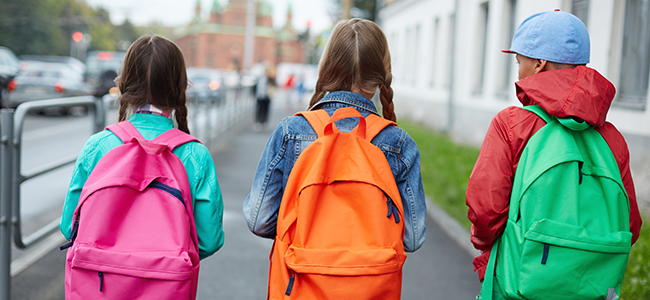 It may still feel like summer, but school has started or is about to for kids everywhere, and suddenly days are even busier with early-morning drop offs, sports practices, homework and more. All of this can make it a challenge to stick to your low carb lifestyle, let alone get the kids out the door with a healthy breakfast under their belts, lunch in tow, on-the-go snacks and a home-cooked dinner at the end of the day.
If all this sounds overwhelming… I'm not going to lie. It can be! But with some planning and prep, it doesn't have to be. Keep reading, because I have you covered with low carb meal prep tips, plus low carb breakfast, lunch, dinner and snack ideas. Let's get started!
Low Carb Back-to-School Breakfasts
The secret to a stress-free breakfast routine is having make-ahead meals on hand that you can reheat in minutes or easy options that you can grab and go.
Eggs: You can scramble up a couple eggs in minutes, or reheat Cheese-Baked Eggs, Sausage and Egg Muffin Cups, Crustless Spinach Quiche or Sausage and Bell Pepper Frittata.
Smoothies: Some smoothies can be packed full of hidden sugars, but not these, which are deliciously low in carbs and sugar: Vanilla Spinach Shake, Antioxidant Berry Smoothie or Chocolate Avocado Smoothie.
Atkins on the go: You just need a couple minutes to microwave a hearty frozen meal for breakfast, such as an Atkins® Ham and Cheese Omelet, Bacon Scramble or Farmhouse-Style Sausage Scramble. Or, if you have any less time, you can grab an Atkins shake or bar.
You an also check out more low carb and keto-friendly breakfast ideas here and here.
Low Carb Back-to-School Lunches
You can go beyond the basic sandwich with these low carb school lunch ideas. And never underestimate the power of leftovers. Take your leftover cooked protein from last night's dinner and add it to salad, wraps and more.
Low Carb Back-to-School Dinners
You can try these low carb family-friendly dinner ideas (from my book, Eat Right, Not Less):
Burger bar: Go with beef, buffalo, turkey or chicken breasts, and lay out all the fixings. Skip the bun and wrap your burger in romaine lettuce leaves.
Salad bar: Grab a rotisserie chicken or two from the grocery store, and put out the salad greens and fixings or try our Taco Salad (you also can substitute chicken or any other protein).
Taco bar: Start with ground beef, carnitas, rotisserie chicken or Turkey Tacos. Add beans, lettuce, tomatoes, avocadoes, sour cream, salsa and guac. Make it low carb with a low carb tortilla or skip the tortilla and beans and turn your taco into a bowl.
Chili bar: When the cooler weather creeps in, add some low carb chili, like our Two-Step Salsa Chili, to your slow cooker in the morning and lay out all the garnishes in the evening when you get home: shredded cheese, olives, jalapenos, guac, sour cream and more.
Low Carb Back-to-School Snacks
It's easy to get "hangry" after a long day of work or school, and long commutes or never-ending carpools, but these low carb snacks are perfect for adults and kiddos. And you can never go wrong with portable snacks like almonds, string cheese, a piece of fruit or cut-up veggies with ranch or hummus, as well as your choice of convenient Atkins snacks.
Low Carb for the Whole Family
Sure, not everyone in your family may be living a low carb lifestyle, but cutting back on sugar, refined carbs and overly processed foods is a much healthier choice for everyone. Be sure to check out these 7 tips for a family-friendly low carb lifestyle. Plus, here are some sneaky ways to incorporate fiber-rich veggies into meals:
If your kids are pining for pasta, sneak in some zucchini noodles as well.
Combine cauliflower rice with brown rice for a heartier side dish.
Roast bite-size pieces of cauliflower and broccoli and sprinkle with Parmesan cheese for a delicious side dish or appetizer.
Skip the fast food French fries and go for baked "fries" made from slices of sweet potato tossed in the seasonings of your choice and olive oil.
Add spinach, mushrooms and/or shredded zucchini or squash to store-bought low sugar spaghetti sauce.