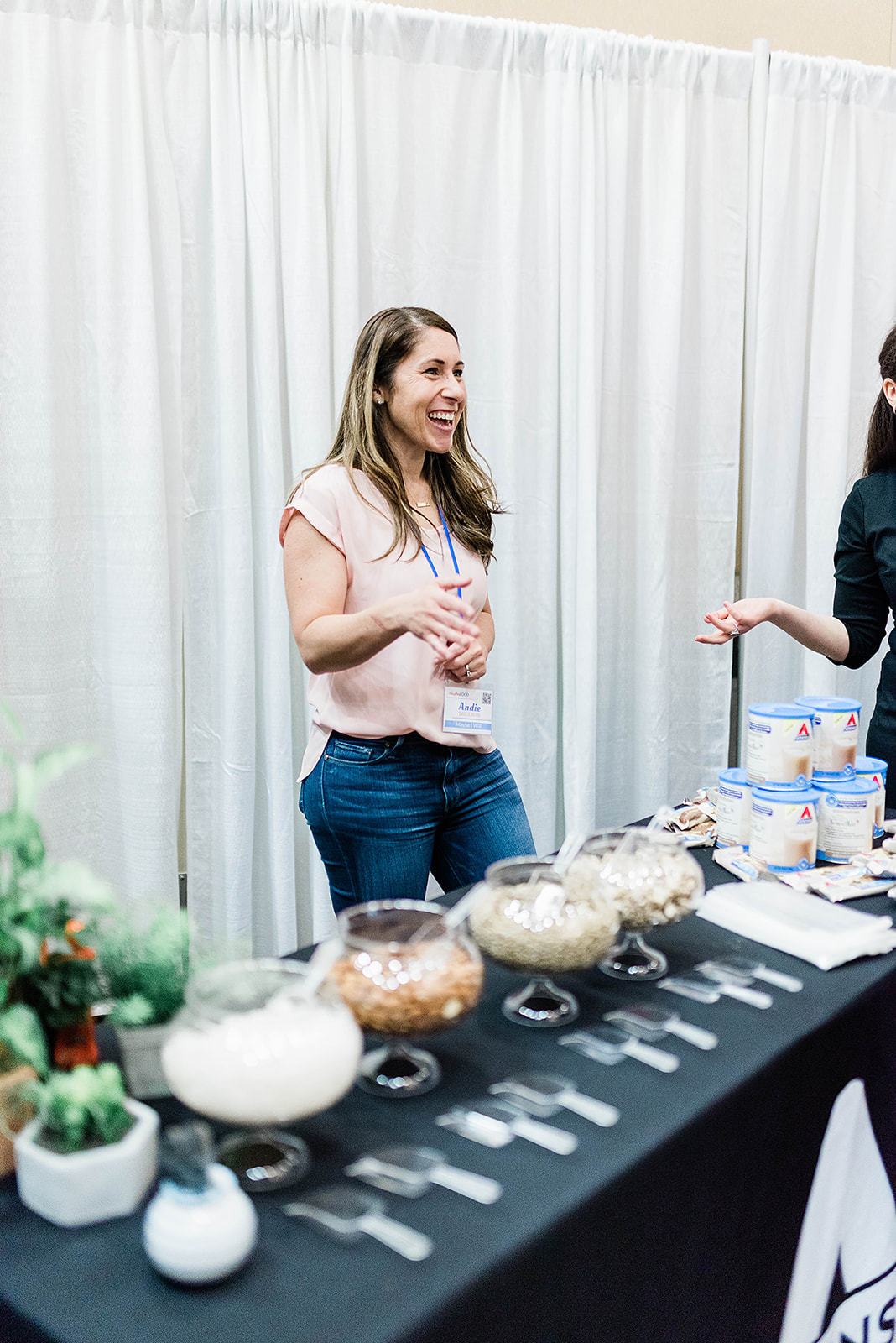 Andie is a busy stay-at-home mom to three kids. Since discovering that living a low carb lifestyle could help improve her health and lose weight in the process, she has partnered with Atkins, and she's been on a mission to share how eating healthy and embracing fitness can be simple and fun through her blog Maybe I Will.
Here Andie shares why she chose to follow a low carb lifestyle, as well as some of her favorite low carb summer snacks and fitness tips.
Q: What made you decide to follow a low carb lifestyle?

A: A few years ago I was diagnosed with PCOS (polycystic ovarian syndrome), one of the main complications being pre-diabetes and diabetes. My body does not regulate insulin in a normal way. After much trial and error, I have come to know that my body functions and feels its best when I commit and live a low carb lifestyle.
Q: Had you had success with other diets before?
A: Over the years I have tried so many diets, and my body always responds the best when I come back to a low carb lifestyle.
Q: How and why does low carb work for you?
A: Eating low carb is easy to follow and does not require measuring, weighing and tracking calories—all wins in my book. And my body responds really well to it.
Q: Does your family follow a low carb lifestyle as well, or do you make modifications (and if so, what kind) to your meals to accommodate your kids, etc.?
A: My family does not follow a low carb diet, but I do like to reduce the amount of sugar and processed carbs they eat. When it comes to meals, I choose to make meals that are easy for me to swap out pasta for veggies or skip the bread. I am not about to make two separate meals. Nobody got time for that. Ha!
Q: What low carb snacks do you rely on during the summer?
A: Fresh berries are magical in the summer and taste so much better because they are in season! I also love watermelon and cantaloupe. I like to eat my fruit paired with high- protein Greek yogurt or cottage cheese. I opt for the full-fat versions to avoid added sugars.
Q: What are your go-to low carb meals? Do they tend to change with the seasons? For example, low carb comfort food in the winter, more grilling, and fresh vegetables in the summer?

A: I love eating foods that are in season. In the summer, we grill a lot, so hamburgers, brats, and grilled veggies are my go-to meals. In the winter, I rely on roasted veggies that are low on the glycemic index, as well as roasted meats.
Q: What motivates you to work out regularly?
A: I am a fitness fanatic; my day just doesn't feel right without working out. I am always amazed by what my body is capable of. It motivates and astonishes me.
Q: What kind of workouts do you do?
A: I love to run, and I am currently training for my very first marathon. (Check out Andie's interview with Atkins Nutrition Communications Manager and endurance athlete Jonathan Clinthorne, as he explains how a low carb lifestyle works while training for and competing in endurance events.)
Q: How do you squeeze fitness in when you're short on time or traveling?
A: One of my favorite things to do when traveling is to go for a run and check out the city as I run the streets. If the place I am visiting is not run-friendly or I am short on time I like to do a quick HIIT workout in the hotel gym or even in my hotel room.
Q: What tips do you have for encouraging your family to be active?
A: I enjoy hiking and bringing my family along to explore. I also try to plan active activities that help us get out and be active all year round.
Q: What are your go-to low carb snacks for before and after workouts?
I wake up early, so I rarely eat before working out. But after working out, I usually will drink an Atkins shake or eat some nuts and string cheese.
Q: Do your workout snacks change depending on activity?
A: If I am doing a more focused workout, then I will eat a snack like a protein shake after. If I am just being active and the movement is more relaxed, I will rely more on snacks like an Atkins bar, boiled eggs, turkey roll-ups or nuts.
Q: Do you have anything else to add about living a low carb and active lifestyle?
A: Over the years I have learned that living low carb is sustainable if you allow yourself to be flexible and not so militant. What that means is if I am at a party or other special event, I may eat a slice of cake or other carb goodies, and I enjoy it! Instead of feeling all kinds of guilt and shame about "cheating", I allow myself some freedom to live a little.
But ultimately I know and have learned that I feel and look my best when I am fueling my body with nutritious low carb goodness.