* The average person can expect to lose 1-2 lbs. per week. Results may vary. Weight loss is influenced by exercise, food consumed and diet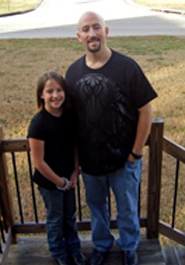 My Story:
I feel like I am going to die…
That was me, at the end of 2006. I was just about to turn 30. I was the heaviest of my life – 354 lbs.. Wow, how does that happen? Why don't your friends and family tell you that you are ""scary overweight?" I think the one thing that really frightened me was the sound of my own breath. I sounded like an animal sometimes. My resting heart rate was always over 90, my blood pressure was high and I was pre-diabetic. I literally felt like I was going to die if I didn't do something and do it right then and there.
My Goals:
Having previously enjoyed a low-carb diet, I decided to try it again, but this time with the understanding that I would be changing my lifestyle permanently from that point on – in other words, NOT just another diet. After all, I never followed a strict plan or regimen before this point. I never counted a carb, a calorie, or anything. The only thing I did religiously was weigh-in several times a week (against popular suggestions) and take advantage of Atkins bars and occasionally a shake for a quick meal on the go. This time, I used the bars and shakes, but everything else I changed for the better.
How Atkins Helped Get Me There: I worked hard all of 2007 and lost weight, but I saw no real change in my clothing size so I didn't really feel like I was doing well. Yet, by the end of 2007, I had lost 50 pounds and felt better about myself. Shortly thereafter, we went to Orlando for vacation - I was still well over 300 but had no problem walking around the park and riding all the rides. At the end of 2007, some coworkers and I started talking about beginning a ""Biggest Loser"" type contest at the beginning of the following year; that must have been what I needed to keep going…financial motivation. I started the New Year at 304 and had some good encouragement from my family and coworkers. It was really easy to stay on track because I felt everyone was watching me and there was no way I could let them down. I won the competition and the money. I proved to myself that I COULD change my lifestyle and make better food choices. I added walking and picked up tennis (my favorite sport) and I really think this made a big difference. By the summer, I was doing things I hadn't done in years, like wrestling with the kids without sweating all over them or getting out-of-breath. My resting heart rate was much lower and my blood pressure seemed to be well out of the danger zone. I was also able to meet one of my own selfish goals in 2008 – picking out some "normal" sized pants and a shirt. I bought a size 40 pant and a 2XL shirt. This was an amazing feeling! People were really noticing my weight loss and total transformation. My goal was to lose 75 pounds in two years, but I ended the year losing 94 pounds – only ten pounds shy of ""one-derland"" (weighing 199 or less). In 2008 I learned so much about food, cooking and myself. I found so many veggies that I truly enjoyed, ones I would have never eaten in the past. My before picture shows how bad it was; it also shows how much my then two-year old (now 10) daughter has grown. I can only hope my kids never find themselves in the same situation I did. My family loves the new me, my three older kids get a kick out of piling into an old pair of my shorts – at the same time. This really made me cognizant of how far I'd come and how much better I really feel. 144 pounds lost over two years is basically like losing a grown adult from your body. How in the world was I carrying all that weight around for those years? I guess, who cares now, because I will never be that man again, NEVER. I am going to keep working toward my goal of losing another 25-30 pounds in 2009 as well as packing on some additional muscle. I will focus on bringing Atkins recipes to my family so they too can benefit from my food choices. I will NOT fall off the wagon and revert to my old bad habits. My body obviously can't tolerate bad carbs very well so I have to treat it like an allergy. So far in 2009, I have lost a few more pounds and am currently weighing in at about 194. I am now wearing about a 34-36 inch pant and between an L and a XL shirt. There is no way I could have made it through this process without the help and encouragement from my friends, family and new online friends in the Atkins Community. Those who have helped me know who they are and to each one of them I sincerely say, THANKS! And no one has been more supportive of me than my wife... thank you, baby. I DO NOT feel like I am going to die. Not anytime soon at least! Mission accomplished.