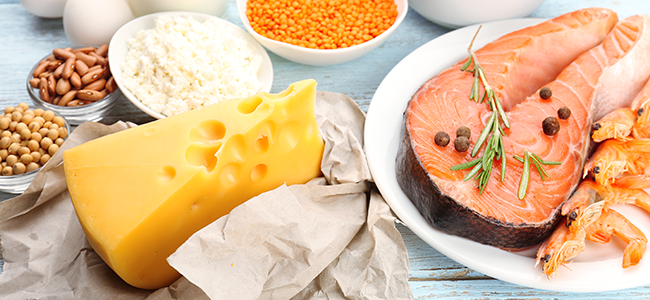 Protein is an essential cornerstone of nutrition. The body uses this macronutrient to build and repair tissues, make enzymes, and fortify bones, muscles, and cartilage. Nutritionists agree that eating foods high in protein can increase satiety and help burn fat.
5 High Protein Foods

High-protein, low carb foods can be delicious, too. Atkins has compiled a list of the best sources of protein among low carb snacks and foods. Read on for recipes and products that incorporate these tasty ingredients.
1. Fish
Certain types of seafood are lauded as protein powerhouses, such as yellowfin tuna, halibut, and tilapia. Try Bahian Halibut, a well-seasoned Caribbean dish with coconut flavors; it offers 48.6g of protein, 19.5g of fat, 1.8g of fiber, 5.1g of net carbs, and 400 calories per serving. Bring Tuna-Celery Salad to lunch and enjoy a protein-filled midday feast; one serving offers 37.9g of protein.
2. Tofu
Tofu is an excellent vegetarian protein to add to an entree as it easily absorbs whatever flavors it's cooked with. Spice up baked tofu with a zesty kick such as a chipotle marinade or a Moroccan rub. For a savory Meatless Monday dinner, try Tofu Pad Thai, which contains 22.6g of protein, 28.4g of fat, 7.6g of fiber, 13.7g of net carbs, and 413 calories.
3. Eggs
The poster child of protein, one egg offers 6g of complete protein. This means it provides all the amino acids humans need in their diet. Jump start your day with a protein-packed dish such as Eggs Scrambled with Cheddar, Swiss Chard and Canadian Bacon. This entrée includes 32.6g of protein, 27.6g of fat, 1.2g of fiber, 3.6g of net carbs, and 400 calories.
4. Nuts
Nuts offer heart-healthy fats and plenty of protein. In particular, peanuts, cashews, and almonds are great bets for high-protein snacks. The Atkins Chocolate Peanut Butter Pretzel Bar packs a whopping 16g of protein between bites of real roasted peanuts, pretzels, and creamy peanut butter. You can also grab a handful of Atkins Classic Trail Mix, which is equal parts salty and sweet, with 7g of protein.
5. Chicken
Chicken is a great source of lean protein. For dinner, try Green Goddess Grilled Chicken, which packs in 36.4g of protein, 26g of fat, 1.4g of net carbs, and 391 calories. Chicken Salad makes for a filling lunch, thanks to nearly 50g of protein per serving. Use a lettuce wrap for an added crunch.