Summertime brings on some of the freshest produce, so it's fitting that June marks National Fresh Fruit and Vegetables Month. Take a walk down the produce aisle and get inspired by all the colorful, fresh fruits and vegetables that keep your mind bright and your body strong. They're not only packed with healthy vitamins and fiber, but also the inspiration for many creative low carb summer recipes. We've rounded up some of our favorite fruit recipes and delicious vegetable dishes as proof: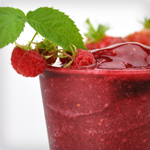 1. Almond Raspberry Smoothie
June is peak berry season, so there's no better time to enjoy the tart flavor and bright color of raspberries. This easy four-ingredient Almond Raspberry Smoothie makes for a well-rounded breakfast, or even an energy-packed snack when you hit a mid-afternoon slump. Each serving contains 10.8g of net carbs.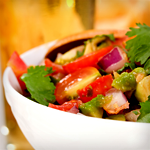 2. Avocado Salsa
This delicious, creamy Avocado Salsa makes for the perfect summer vegetable recipe. Avocado is the green machine of heart-healthy fats, potassium, and vitamins C and E, and it's the inspiration for this vegetable snack. Red onions, jalapenos, and tomatoes add color and flavor. Each serving contains 3.3g of net carbs.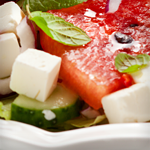 3. Watermelon, Feta, and Cucumber Salad
There aren't many summer recipes more tasty and refreshing than our Watermelon, Feta, and Cucumber Salad. Tossed with lime juice, olive oil, and fresh mint, this bright and juicy produce combo makes for the perfect dinner side dish or afternoon snack. Each serving contains 5.4g of net carbs.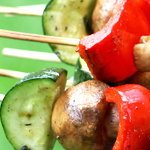 4. Veggie Kebabs
Embrace the warm weather by hosting a grill night featuring Veggie Kebabs. Stacked with zucchini, red pepper, and mushrooms, these summer vegetable kebabs are the real deal and prove that not all cookouts require meat. Simply grill the kebabs until they're crisp, tender, and have grill marks. Each serving contains 4.5g of net carbs.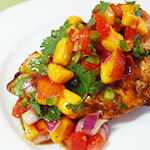 5. Chicken with Peach Salsa
There aren't many fruit and vegetable recipes that are as summer-perfect as Grilled Chicken with Peach Salsa. Just toss your chicken on the grill, and top it with a fresh and easy homemade peach salsa made with jalapeno, red onion, tomato, cilantro, lime juice, sugar substitute, chili powder, and olive oil. Each serving contains 5.5g of net carbs.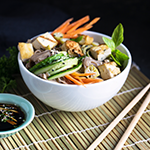 6. Asian Vegetable Bowl
Simply put, this Asian Vegetable Bowl recipe is better than takeout. Toss together fresh produce like bok choy and mushrooms, then enhance with a unique flavor combination of garlic, ginger, and tamari soy bean sauce. This quick vegetable recipe is a great go-to when you want a lot of flavor but don't have a lot of time. Each serving contains 4.6g of net carbs.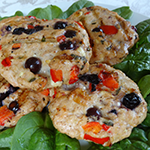 7. Blueberry Turkey Burger
Here's a more untraditional idea for cooking with fresh fruit: add produce to your turkey burger patties for extra flavor. Try our Blueberry-Turkey Burger, which combines chopped red bell peppers, feta cheese, and blueberries to your ground turkey mix. Each serving contains 3.7g of net carbs. You can add fresh fruits and vegetables to any burger patty at your next cookout.
These seven choices are just a few of the many fresh fruit and vegetable recipes from Atkins.
For more ideas on how to cook low carb for the summer, check out our featured recipes.