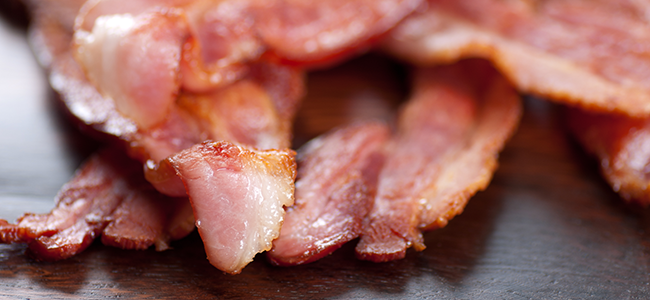 Every year, the average American eats 18 pounds of bacon[1]. It should come as no surprise then that bacon fans get their very own holiday: August 20 marks National Bacon Lovers Day. (For National Bacon Day, you'll have to wait until the Saturday before Labor Day when it's celebrated.) Whether you consider yourself a Bacon Lover or not, celebrate the day with some of the low carb bacon recipes below.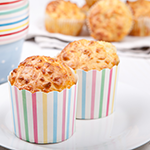 Bacon and eggs is a breakfast classic, but sometimes you need something more grab and go. These savory muffins take only two minutes to make, and you can easily eat them on your morning commute. Made with bacon, eggs, and cream cheese, they not only burst with flavor, they pack a lot of protein. One muffin contains 28.9g of protein, 27.3g of fat, 0g of fiber, 2.3g of net carbs, and 375 calories.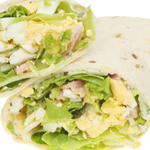 A B.L.T. isn't the only way to savor bacon at lunch. This simple wrap combines crunchy bacon bits with creamy egg salad and crisp lettuce for a satisfying melding of textures. A Flatout wrap holds things together without piling on the carbs. Each wrap has 34.4g of protein, 36.1g of fat, 10.2g of fiber, 8.6g of net carbs, and 511 calories.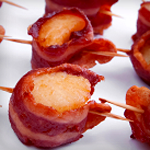 Hosting a party? Your guests can pop these bite-sized hors d'oeuvres easily into their mouths as they socialize. The tasty bites also strike that perfect note of salty and sweet—don't be surprised if they disappear fast. Three bacon-wrapped scallops have 8.1g of protein, 15.5g of fat, 0.6g of fiber, 3.3g of net carbs, and 188 calories.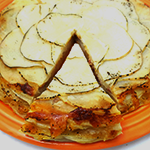 Layered Turnips With Cheese and Bacon
This lasagna-like dish contains just 3.3g of net carbs per serving. The secret is in layering bacon and gruyere cheese between thinly sliced turnips rather than pasta. Try it for dinner with a simple salad on the side. There are 10.3g of protein, 11g of fat, 1.3g of fiber, 3.3g of net carbs, and 159 calories per serving.
---