Low carb chili might sound like an oxymoron—at least for anyone who's accustomed to chili recipes stuffed with beans and pasta. Ask a chili purist, however, and they'll tell you that true chili contains meat, dried chilies, spices, and no beans or noodles. That's the way it's made in Texas, the state where it was born in the mid-nineteenth century.[1] We share our top three beanless chili recipes below—enjoy!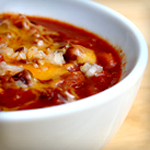 If you need a quick chili recipe, this is your go-to. It takes just 10 minutes to prep and 15 to cook. The last five minutes might be the most important: that's when you sprinkle on shredded Monterey Jack cheese and place under the broiler for a warm and melty topper. One serving has 28.6g protein, 19.6g fat, 0.9g fiber, 3.3g net carbs, and 313 calories.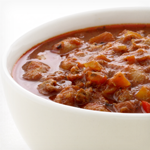 Make quick work of dinner with this easy chili recipe. Start by browning a little more than two pounds of beef chuck, then allow to simmer in a dutch oven with tomatoes, broth, and of course, chili. In two hours, you've got a hearty, low carb meal. Each serving contains 33.3g protein, 24.2g fat, 1.2g fiber, 3.9g net carbs, and 385 calories.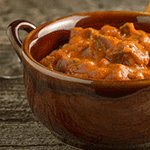 This 10-serving healthy chili recipe is perfect if you're expecting company, or preparing a week's worth of meals for yourself. Browning the five pounds of beef top sirloin and allowing to simmer for 2.5 hours gets you perfectly tender meat. Serve yourself a scant cup for 43.9g protein, 12.4g fat, 1.4g fiber, 3.3g net carbs, and 325 calories.
---