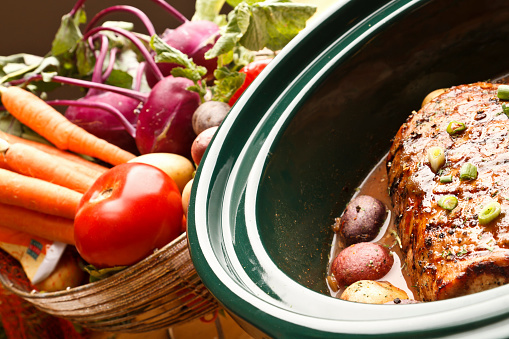 Less time spent cooking this winter means more time to yourself. One of the easiest and fastest ways to get a meal on the table while staying healthy is also one of the most delicious: using your slow cooker. Slow-cooked meals are full of hearty flavors and are the perfect way to make sure you're achieving your nutritional goals without the time commitment and hassle of other cooking methods. With the convenience of crockpots, your meal options are endless.
Whether you're a novice at slow cooking or you've had your crock pot for ages, there's nothing easier than throwing in your low carb ingredients and letting your slow cooker do the rest of the work. Think beyond soups and stews (ok, we included one soup) and try the following easy low carb crockpot recipes to get you started this winter:
1. Crockpot Vegetable Soup
With 8.9g net carbs and 4g protein per serving, this crockpot vegetable soup recipe made with low carb vegetables like cabbage, mushrooms, zucchini, green beans, and red onion is sure to boost your immune system and fight diseases this winter season. Soup is also easy to freeze, which means you can make it now and save leftovers to enjoy later.
2. Burrito Beef
This Mexican-style beef dish, which has 0.9g net carbs and 41.8g protein per serving, is perfect for any Atkins stage. Use your slow cooker to cook up spicy seasoned beef, shred it, then wrap everything up and enjoy! If you're in Phase 1, wrap up your beef in a Boston or Bibb lettuce leaf. If you're in Phase 2 and beyond, go ahead and enjoy this meal with a low carb tortilla.
3. Peking Ribs
You don't need to grill outside to enjoy delicious barbecue barbecue ribs. Slow cookers make it easy to enjoy summery foods like ribs in the middle of winter. Mix your marinade, pour it over your ribs and let everything slow cook for a delicious and flavorful low carb meal with 3.5g net carbs and 35.4g protein per serving.
5 Crockpot Tips for Your Low Carb Diet
Although crockpot cooking is typically a "set it and forget it" way to prepare your meals, there are a few tips and tricks to keep in mind to ensure your low carb slow cooker meals are tops.
1. Pick the Right Slowcooker
Use the slow-cooker size that is recommended in each recipe. This will ensure your crockpot isn't overflowing or under-filled. Most slow cookers range in size from 1 quart to 8.5 quarts. Also keep in mind that more is not always better. It may be tempting to pack in extra ingredients, but avoid overfilling your slow cooker to be sure your food cooks correctly and in the time indicated by the recipe. Lastly, you may want to consider upgrading your crockpot. Programmable slow cookers cook your meal for a predetermined amount of time before switching to a lower setting, keeping your food warm (and at a safe temperature) until you're ready to eat.
2. Thaw it Out
Never add frozen ingredients to your slow cooker. Prevent bacteria and avoid undercooked foods by making sure your meat and vegetables are fully thawed before you add them to your slow cooker and start cooking.
3. Plan Ahead
If you do a little work the night before, you will save yourself time and make your crockpot cooking even easier. Prep food by cutting and trimming any meat, chopping vegetables, measuring out your dry ingredients, and preparing any sauce. Refrigerate the ingredients in separate containers, and in the morning, simply add the ingredients to your slow cooker. It doesn't get much easier than that!
4. Don't Peek!
You may want to take a peek at the delicious low carb meal that's slowly percolating in your crockpot, but keep a lid on it. When you open your slow cooker, it lets heat escape and slows the cooking process. Check your meal, and if the recipes calls for it, give it a stir, 30 to 45 minutes before the low end of the suggested cooking time.
5. Boost the Flavor
Taking a couple extra minutes to brown your meat and sauté your veggies before adding them to your slow cooker will help enhance the flavors of your low carb slow cooker meal. You can also add fresh herbs or lemon juice toward the end of the cooking time for a bright finishing touch. Consider including other low carb flavor-boosters such as hot sauce, citrus zest, grated parmesan, high-quality olive oil, and even sautéed garlic, shallots, or ginger.
—
Healthy slow cooker meals are the perfect way to eat well without sacrificing the foods or flavors you love. Use Atkins low carb recipe database to discover other delicious and healthy slow cooker meals you can enjoy this winter!