Whether or not you're a football fanatic, we can all agree that the food is one of the best parts of watching the Big Game. But just because traditional football party foods raise some penalty flags on your low carb diet doesn't mean you have to forgo a party altogether. Instead of avoiding your favorite game day foods, make some easy ingredient substitutions and become the low carb MVP with this roster of healthy game day recipes that will have your guests huddled up around the snack table.
Avocado Salsa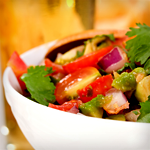 This Avocado Salsa combines fresh avocado, red onion, jalapeno peppers, fresh lime juice, cilantro, and tomato for a refreshing and zesty snack with 1.3g protein and 3.6g net carbs per serving. Skip the chips and whip up some low carb Chili Spiced "Tortilla" Wraps for dipping instead.
Spinach Artichoke Dip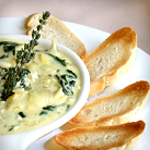 Slice up some veggies and start dipping with this creamy and cheesy Mediterranean-inspired spread. Each serving of this Spinach Artichoke Dip contains 9.3g protein and 3.6g net carbs per serving and is sure score lots of points with your guests.
Zucchini Crisps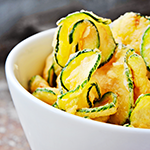 When you think of low carb football snacks, you may think of blowing the whistle on anything that even looks like a potato chip, but we have a better game plan. Satisfy your crunchy cravings with these Zucchini Crisps. We love that you can season them however you like—Parmesan, garlic powder, Italian seasoning, rosemary, or even dill. Each serving contains 2.4g net carbs and 2.2g protein.
Mushrooms Stuffed with Sausage and Mozzarella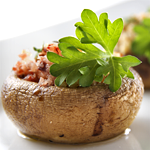 This mushroom cap recipe can be customized to suit a wide range of palates by swapping out the pork sausage for turkey sausage or vegetarian "sausage" made from soy. One serving contains 2.6g protein and 0.7g net carbs.
Savory Popcorn and Nut Mix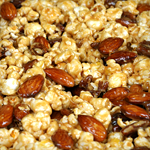 This crunchy snack creation is a delightful mix of roasted nuts, air popped popcorn, and a tasty no-fuss seasoning. Each serving of Savory Popcorn and Nut Mix has 6.2g protein and 6.3g net carbs.
Super Chili Bowl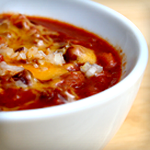 For a healthier take on a game day staple, try this Super Chili Bowl recipe, which is packed with protein and hearty flavors. Each serving has 25.6g protein and 4.4g net carbs. Topped with a sprinkling of melted cheese, this is one super yummy bowl!
Bones-to-Be Chicken Wingettes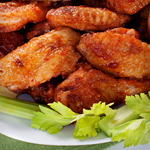 Smothered in chili powder, cayenne pepper, and yellow mustard seed, these low carb chicken wings pack a spicy punch. Each tasty wing serving contains 11.8g protein and 0.5g net carbs. For more variety and to kick things up another notch, try this recipe for Jerk Chicken Wings and Drummettes.
Ham, Swiss Cheese and Avocado Roll-Ups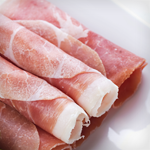 The basic ham-and-cheese sandwich gets a low carb makeover in this easy Ham, Swiss Cheese and Avocado Roll-Ups recipe. Place a piece of cheese atop a piece of ham, and top with a slice of avocado. Roll up and secure with a toothpick. Voila! Hosting the game can't get much simpler than this easy football party recipe! One serving has 39.6g protein and 3.1g net carbs.
Double Chocolate Cookies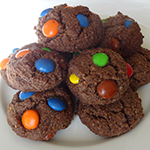 No game day spread is complete without a sweet treat (or two). Use your team's colored candies to make these Double Chocolate Cookies for the party. Your guests will be a fan of these chocolaty sweet treats that have 2.7g protein and 1.3g net carbs per cookie.
—
From low carb football snacks to everyday meals, we've got a great lineup of recipes. Click here for more delicious ideas to fit your Atkins Phase.