From latkes to noodle kugel to challah, Hanukkah presents a feast of delicious foods—many of them high in carbs. However, if you're an Atkins dieter, don't worry. Our recipe library has a number of options, including low carb latkes. We've rounded up four of our favorite Hanukkah recipes below so you can enjoy the festivities and stay on plan.
<h2>Orange-Spiced Sweet Potato Pancakes</h2>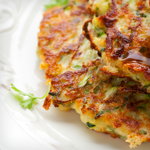 Yes, you can eat fried latkes on the Atkins diet. This latke recipe calls for sweet potato, cinnamon, and orange peel. The result is a colorful, flavorful pancake that's just as good as the real thing. Three latkes will net you 6.5g protein, 8.8g fat, 2.3g fiber, 156 calories, and 11.1g net carbs.
<h2>Chicken Soup with Dilled Mini-Matzo Balls</h2>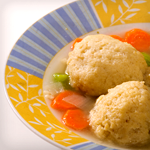 Kick the meal off with a warm, comforting bowl of matzo ball soup. Seasoned with dill, garlic, thyme, and scallion, this variation is good enough to eat on its own, so go ahead and make extra to have throughout the week. In each serving, there are 16.2g protein, 5.4g fat, 0.7g fiber, 139 calories, and 5.3g net carbs.
<h2>Apricot-Glazed Brisket</h2>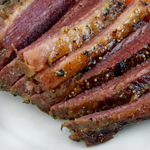 For the main course, brisket is a must. Put a sweet spin on the savory classic with a glaze of sugar-free Apricot preserves. The recipe yields eight servings, and each one contains 47.1g protein, 16.8g fat, 0.3g fiber, 358 calories, and 2.1g net carbs.
<h2>Pumpkin Donuts</h2>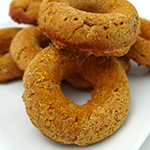 Many Hanukkah meals end with a dessert of sufganiyot, glazed and jelly-filled doughnut holes. These are typically laden with sugar, but our low carb pumpkin doughnuts offer a sugar-free alternative made with real pumpkin, nutmeg, and cinnamon. If you shape them into doughnut holes, each one has 1.7g protein, 3.3g fat, 2g fiber, 50 calories, and 1.5g net carbs