Lucky for sweets-tooths everywhere, February is not only host to Valentine's Day, it is also National Pie Month. To help you celebrate all month long, here are seven easy, low carb pie recipes that are as delicious as they are filling. So get baking and treat yourself to a slice!
Low Carb Pie Crust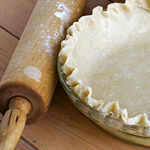 A good pie starts with a good crust, and we've go two low carb pie crust recipes to add to your healthy baking repertoire. This Atkins Cuisine Pie Crust is great for sweet and savory pies alike, with 8.6g protein and 3.6g net carbs per serving. For gluten free bakers making this pie crust, swap out the flour with this Gluten Free All Purpose Low Carb Baking Mix substitute.
Chocolate Rum Pie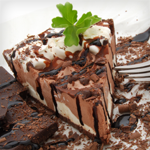 Chocoholics will go crazy for this chocolate-rum pie, which is approved for all Akins phases. With 4.4g protein and 4.1g net carbs per serving, this pie is rich and indulgent, but stays low carb by using soy flour in place of all-purpose flour.
Sweet Cherry Pie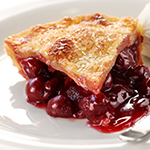 For something bright and tart, our cherry pie recipe is a great pick for National Pie Month. Its low carb pie filling is easy to whip up quick, and its cinnamon crust is simply delicious. Each serving has 12.9g net carbs and 10.6g protein.
Strawberry-Rhubarb Pie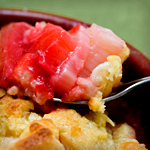 Rhubarb is a great source of good-for-you nutrients like Vitamins C and K, calcium, potassium, and antioxidants. Reap the benefits by incorporating the vegetable-looking fruit into this Strawberry-Rhubarb Pie recipe with 9.3g protein and 9g net carbs per serving. If it's not rhubarb season where you are, you can use frozen rhubarb, just be sure it doesn't have any added sugars!
Pumpkin Pie With Pecan Crust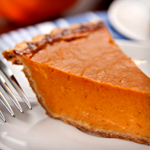 Take the classic pumpkin pie up a notch with this Pumpkin Pie with Pecan Crust recipe. With 8.4g protein and 8.3g net carbs, this is a decadent low carb pie withy some extra crunch that you can enjoy any day of the year.
Pumpkin Pie Protein Shake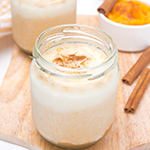 Pie for breakfast! Ok, it's not technically a pie, but if you want the pumpkin pie without the crust this Pumpkin Pie Protein Shake is sure to satisfy your craving. Combine unsweetened coconut milk, pumpkin, maple syrup, pumpkin pie spice and vanilla whey protein to whip up this shake — with 25.7g protein and 5.7g net carbs per serving — in minutes. It's like sipping on low carb pie filling!
Chicken Pot Pie
Cold February weather calls for cozy comfort food, and this Chicken Pot Pie (27g protein, 7.5g net carbs) is perfect for a chilly evening. With only 15 minutes of prep time, you'll have this hearty, low carb meal in the oven in minutes. Feeling creative? Go ahead and add in any of your favorite low carb vegetables that you have on hand.
Leek Quiche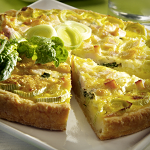 Try this easy Leek Quiche for a filling, healthy breakfast during National Pie Month. It's allowed on Phases 2, 3 and 4 of Atkins and is a yummy way to start your morning. While you might not associate leeks with pies, they taste great combined with heavy cream, butter, eggs, and Gruyere in this savory recipe with 22.2g protein and 19.7g net carbs per serving.
—
Sweet or savory, you can't go wrong with any of these easy pie recipes during National Pie Month, or any time throughout the year! Check out our Atkins recipe database for more low carb pie ideas, along with hundreds of easy breakfast, lunch, dinner, snack, and dessert recipes you'll love.