Healthy potato chips may seem like an oxymoron, but Atkins offers plenty of low carb alternatives to the classic crunchy snack. With Potato Chip Day coming up on March 14, there's even more reason to find low carb potato chips recipes you can indulge in without straying from your low carb lifestyle. Keep reading to discover Atkins low carb alternatives to potato chips.
Rosemary-Roasted Sweet Potatoes
Not only are sweet potatoes delicious, but also they're an excellent source of beta-carotene and vitamin A. This recipe calls for sweet potato spears tossed in a marinade of canola vegetable oil, rosemary, ground cumin, salt, and cayenne pepper. One serving contains 1.2g of protein, 2.4g of fat, 2.4g of fiber, 13g of net carbs, and 87 calories.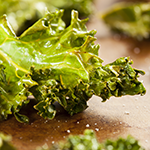 In five minutes or less, you can prepare this tasty low carb chip. Toss bite-size pieces of kale with olive oil and sea salt and roast for 30 minutes. You can switch up the recipe with the addition of grated parmesan cheese, truffle sea salt, ground chipotle, or wasabi powder. There are 1.1g of protein, 2.6g of fat, 0.7g of fiber, 2.7g of net carbs, and 37 calories per serving.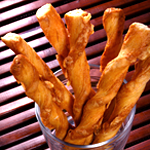 If you have a hankering for a cheesy snack, Atkins Cheese Straws will do the trick, as each bite contains cheddar cheese, parmesan cheese, and zesty garlic powder. Be sure to prep ahead of time, because the dough needs to be refrigerated for at least two hours before baking. In one serving, there are 10.5g of protein, 9.7g of fat, 0.7g of fiber, 1.4g of net carbs, and 135 calories.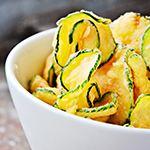 This recipe calls for thin slices of zucchini roasted in extra virgin olive oil, salt, pepper, and parmesan. Zucchinis are a great source of manganese, vitamin C, and dietary fiber. One serving contains 2.2.g of protein, 8g of fat, 0.9g of fiber, 2.3g of net carbs, and 88 calories.
If you're looking for something tasty to dip your chip in, try whipping up Atkins Blue Cheese Dip, Creamy Sun-Dried Tomato and Goat Cheese Dip, Cucumber Guacamole, Pico de Gallo, or Spinach-Artichoke Dip.