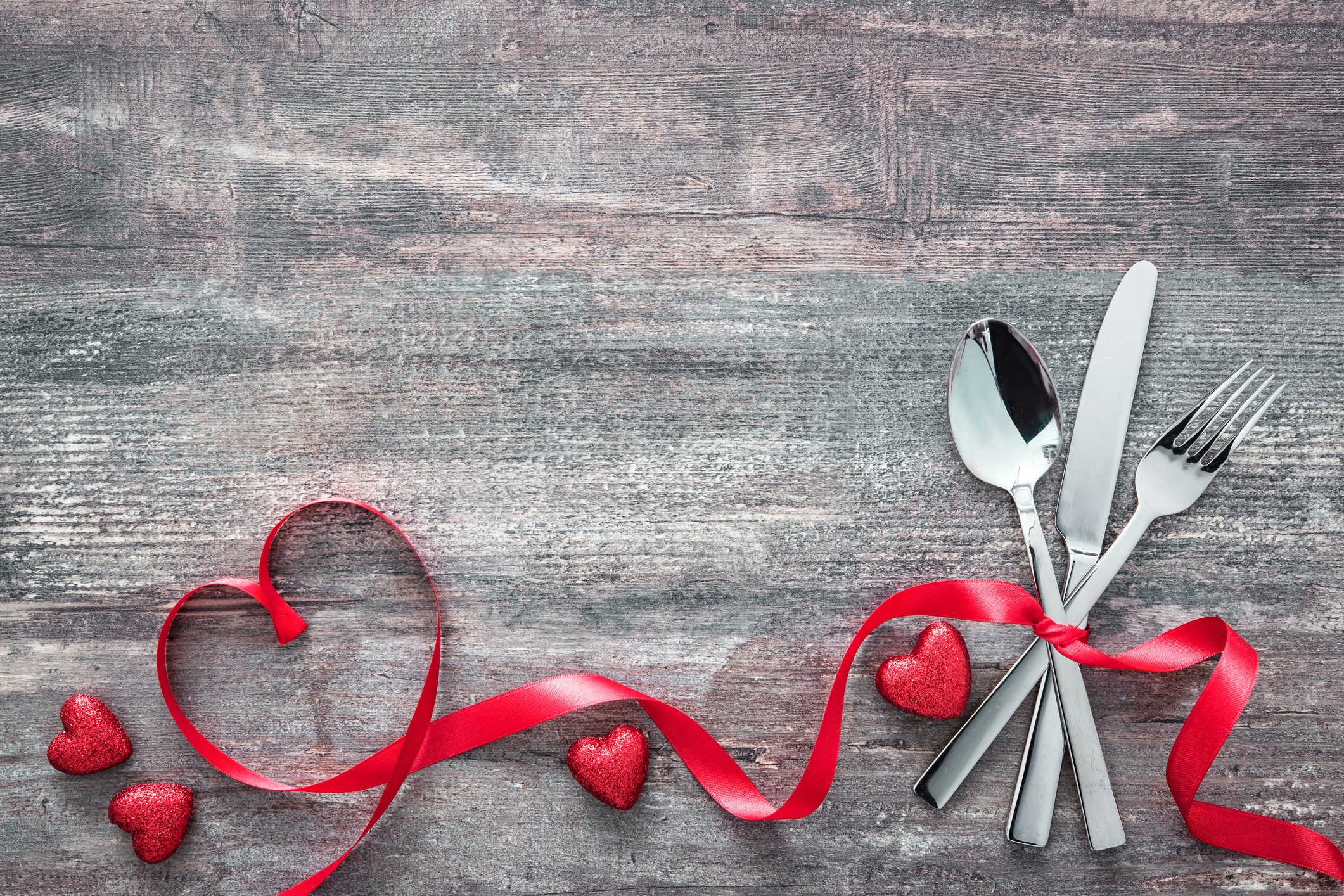 When you think romantic dinner for two, low carb may not be the first thing that comes to mind. But Valentine's Day doesn't have to be all about avoiding temptations–or delicious food! This year, fall in love with these healthy Valentine's Day dinner recipes that can let you indulge without the guilt. Here are four romantic low carb dinner menus designed for each Atkins phase.
Atkins 20 Phase 1 Menu: 14.9g Net Atkins Count
Phase 1 of Atkins is all about kickstarting your weight loss by aiming to have 20-25g Net Atkins Count a day. This three-course dinner menu of soup, salad, and "pasta" is Atkins-approved for Phase 1 and packs in 10.8 grams of foundation vegetables, which is almost the total needed for the day.
Roasted Red Pepper Soup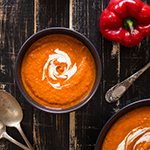 Warm up by starting your Valentine's Day dinner with this delicious Roasted Red Pepper Soup. Easy to prepare with many ingredients you might already have on hand, you will have this first course on the table in no time. Purée your vegetable mixture the night before to save even more time and avoid mess.
Spring Salad
In Phase 1, 12-15g of your carb total should come from vegetables. We've got you covered with this light and crunchy Spring Salad, made with lettuce, watercress, cucumber, and radishes with homemade Green Goddess Dressing. Make enough so you can enjoy leftovers the next day!
Zucchini Noodles with Spicy Chicken Sausage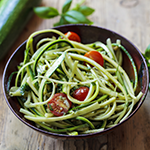 Going to a nice Italian restaurant is a proven way to enjoy a romantic dinner, but between the pasta and the bread, it isn't easy to have a low carb meal. Making your own Zucchini Noodles with Spicy Chicken Sausage "pasta" at home will allow you to control what goes into the dish, know exactly how many carbs you are eating, and enjoy a healthy meal without sacrificing flavor.
Atkins 20 Phase 2 Menu: 8.7g Net Atkins Count
French cuisine is synonymous with romance, so we've put together a French-inspired menu for those in Phase 2 or higher of their Atkins plan. If you have made the transition to Phase 2, you are aiming to eat between 25-50g Net Atkins Count a day. And this romantic low carb dinner will not only meet those goals, but we think it's just about the next best thing to getting on a plane to a high-end bistro in Paris. Bon appétit!
Creamy Mushroom Soup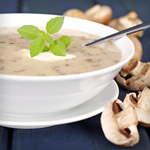 Yes, you can enjoy rich, cream-based soups on Atkins! This easy and flavorful Creamy Mushroom Soup is a great way to start things off for the evening. Savory shallots and thyme give this course a boost of Parisian flavor.
Broiled Lobster with Garlic Oil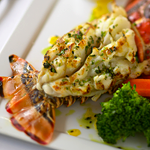 For the main course, a rich and flavorful Broiled Lobster with Garlic Oil is the perfect centerpiece for your Valentine's Day dinner. This mouthwatering entrée is brushed with butter before broiling in the oven for four minutes. This is truly the luxurious touch your romantic low carb dinner deserves!
Grilled Asparagus with Lemon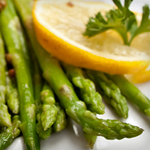 While French cooking is often associated with fussy and complicated techniques, this Grilled Asparagus with Lemon recipe is anything but. Serve alongside your lobster to lighten up your romantic dinner. Because, as you know, vegetables are the foundation of the Atkins Phase 2!
Atkins 20 Phase 3 or Atkins 40 Menu: 9.2g Net Atkins Count
Phase 3 of Atkins is known as the pre-maintenance phase, which is all about establishing lifelong habits so you can stay happy and healthy for good. The following menu of meat and vegetables is a classic home-cooked meal you're sure to enjoy even after Valentine's Day, and it keeps the carb count low enough that you can even add on dessert.
King Crab Dip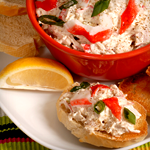 Start off your evening this Valentine's Day with a delicious appetizer of King Crab Dip on homemade Atkins Garlic Toast Crisps. Not only will you impress your loved one, but you can enjoy this savory and satisfying snack while you prep the rest of your romantic low carb dinner together.
Burgundy Chicken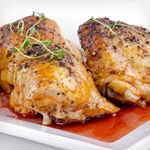 Another traditional French dish, Burgundy Chicken is the perfect centerpiece for your Valentine's Day dinner. This mouthwatering entree is made with classic ingredients like celery, carrot, garlic, parsley, onion as well as chicken thighs and ham, and is roasted for 40 minutes in the oven. Your home will smell as as good as this chicken tastes!
Five-Vegetable Sautée with Mint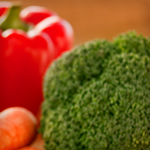 Serve your Burgundy Chicken with a side of fresh cooked vegetables. This Five-Vegetable Sautéed with Mint combines carrots, red peppers, broccoli, cabbage, onion, and mint for a side dish low in carbs and high in nutrients.
Atkins 20 Phase 4 Or Atkins 100 Menu: 22g Net Atkins Count
In Phase 4, you can continue to eat the same variety of foods you enjoyed in the previous phases while slightly lowering your fat intake as your net carb intake increases. An added emphasis of this maintenance phase–and every healthy, balanced lifestyle–is staying active. Taking a short walk after you've finished your romantic low carb dinner is a great way to get those extra steps and to spend time with your special Valentine. We've put together a Phase 4 menu for you here, but you can also pick and choose from any of the previous menus!
Blackberry Spinach Salad with Goat Cheese Medallions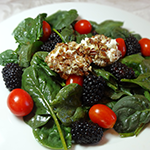 Kick your dinner salad up a notch with this Blackberry Spinach Salad with Goat Cheese Medallions. This decadent spinach salad is topped with blackberries, tomatoes, warm goat cheese rolled in pecans, and a homemade dressing of onions sautéed in cinnamon and blackberries. If you have any leftovers for lunch the following day, this salad is made even more delicious with some added chicken, salmon, or shrimp.
Rib-Eye Steak with Red Wine Sauce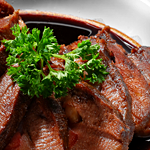 Go all out this year with Rib-Eye Steak with Red Wine Sauce for you and your Valentine. This perfectly done piece of meat is made even better with just the right amount of butter, garlic, shallots, broth, and cooking wine.
Cauli Mac and Cheese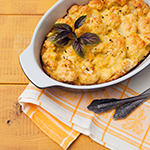 Macaroni and Cheese is the perfect savory side dish for your steak. The low carb version of your family favorite, our Cauli Mac and Cheese recipe, is just as delicious and will certainly satisfy any carb cravings you might have.
Asparagus, Mushrooms, and Peas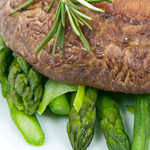 It is just as important in Phase 4 to make sure you are eating plenty of vegetables throughout the day. And a holiday is no exception! This side dish of Asparagus, Mushrooms, and Peas in a rich and creamy sauce is an excellent complement to steak and mac and cheese, and a great way to get your veggies too.
Valentine's Day Desserts for Two
Just because you're living that low carb lifestyle, doesn't mean you have to skip dessert either! It is Valentine's Day afterall. If you manage to save any room for something sweet by the end of the evening, here are some suggestions for Valentine's Day desserts for two. The following low carb recipes, all approved for those in Phase 2 or higher, are easy to assemble in the perfect small batches so you're not tempted to overindulge!
Berries With Chocolate Ganache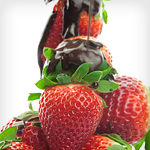 There are few desserts more romantic than chocolate-covered strawberries. With 9.5g Net Atkins Count per serving, we've taken this classic Valentine's day dessert to the next level with our Atkins-approved berries with chocolate ganache recipe that combines strawberries, raspberries, and blueberries with creamy homemade chocolate ganache.
Raspberry Cheesecake in a Cup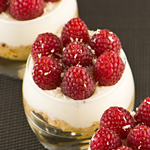 With 4.9g Net Atkins Count per serving and made in individual custard cups, this Raspberry Cheesecake in a Cup recipe is the perfect small-batch dessert. If you just want a taste, you could even make just one and share with your date! It's best to prep these cheesecakes the day before you plan to eat them so they can chill overnight. Just top with raspberries and sugar free syrup when you're ready to serve. Note for those in Phase 1: you can enjoy this dessert too, just leave out the raspberries!
Ginger-Lemon Champagne Sparkler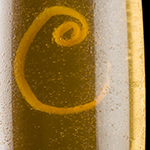 If you're not much of a dessert person, but would still like to enjoy a treat after dinner, we've got you covered with this Ginger-Lemon Champagne Sparkler recipe. This cocktail combines lemons, ginger, vodka, and champagne for a tasty concoction with 4.1g Net Atkins Count per serving. Prefer wine or beer? Find your Net Atkins Count with our carb counter.
—
Explore our extensive collection of low carb recipes to find more low carb dinner, dessert, and drink recipes you'll fall in love with this Valentine's Day.