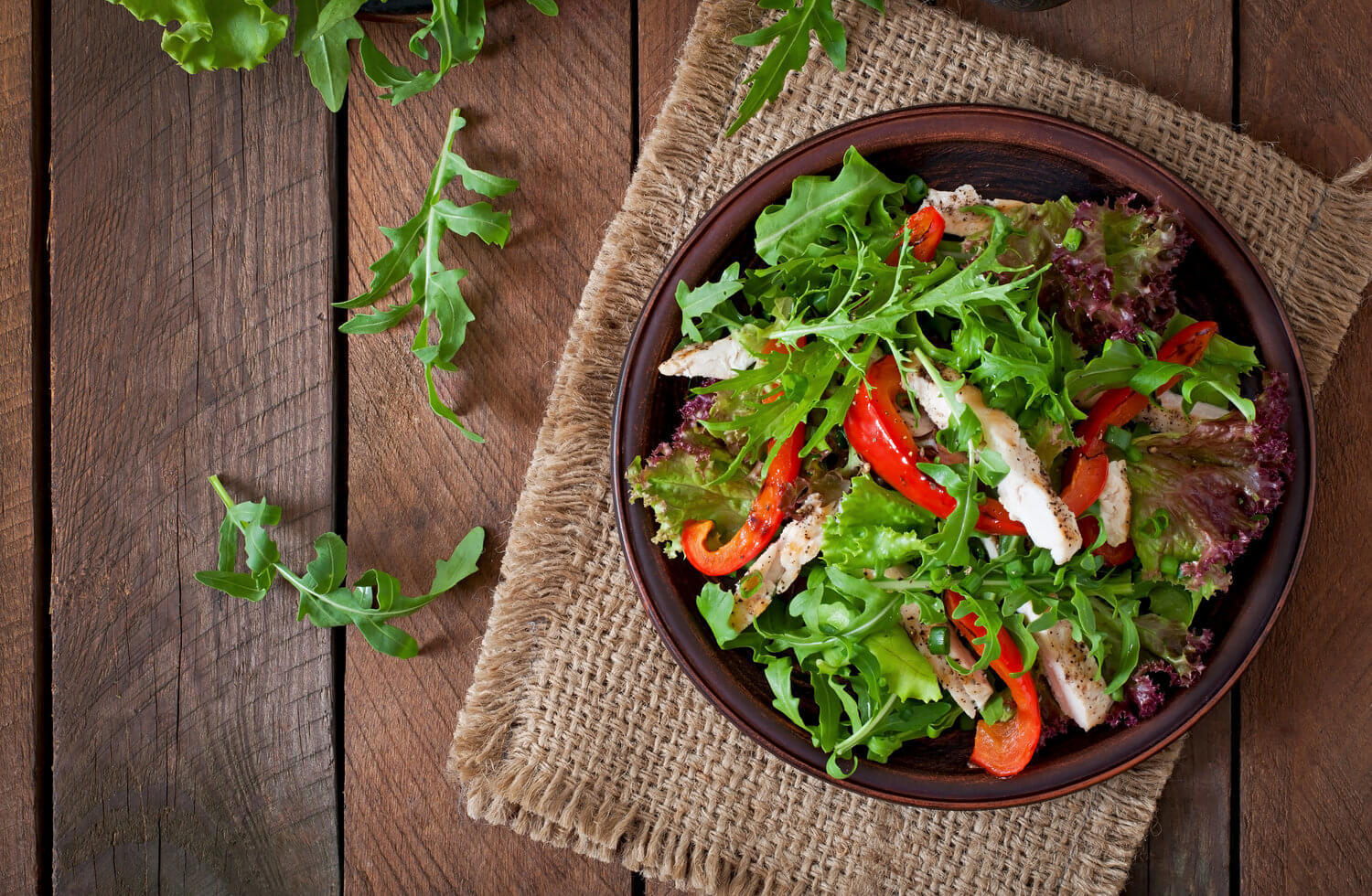 Everyone knows that low carb salads are a great way to help reach your #HappyWeight, but sometimes salad doesn't always get the love it deserves. In honor of National Salad Month, we're here to debunk the "boring salad" myth and get you excited about delicious, healthy salad ideas. Packed with powerhouse nutrients and tons of fiber, salads make for a great lunch option that can be pre-prepared and ready to go in your fridge. Here are seven tasty low carb salad recipes to get you through the whole week: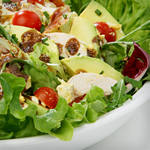 1. Chef Salad of Chicken, Bacon, Tomato, Avocado, and Cheese
A classic salad favorite, this easy chef salad recipe combines protein-packed chicken breast with loads of heart-healthy veggies such as whole red tomatoes, avocado, and spring mix salad. Diced Monterey Jack cheese and bacon provide a flavorful kick. Each serving contains 3.9g net carbs.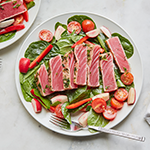 2. Spicy Ahi Tuna Salad
Leafy greens are the perfect canvas for combining an array of unexpected flavors, like the ginger, cinnamon, and cilantro in our Spicy Ahi Tuna Salad. The blend of fresh spices that are used in the seared tuna coating and vinaigrette come together perfectly in this salad creation. Each serving contains 6.6g net carbs.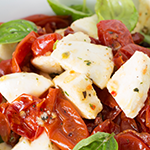 3. Feta, Sun-Dried Tomato, Olive, and Basil Salad on Baby Greens
For this Mediterranean salad option, toss some feta cheese, sun-dried tomatoes, black olives (or kalamata olives), basil leaves, and green onions on a base of mixed baby greens. Top the salad with a homemade dressing of balsamic vinegar, olive oil, and minced garlic. Each serving contains 9.7g net carbs.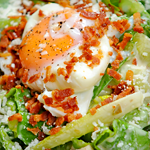 4. French Bistro Salad
The salad topping you need to try this week: poached egg. It's different than your usual toppings and requires a little extra work, but the taste and texture are worth it. Our French Bistro Salad recipe combines an array of rich flavors from sautéed bacon to creamy gruyere cheese, all topped with a fresh lemon dressing that's easy to make. Each serving contains 4.8g net carbs.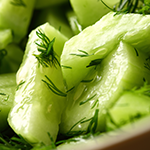 5. Cucumber-Dill Salad
While salads traditionally include some sort of leafy green, there are many low carb salad options that forgo lettuce altogether. This cucumber-dill salad is easy to whip up for a refreshing snack or side dish. Just chop your cucumbers and toss into a simple vinegar and dill mixture for fresh flavor. Each serving contains 5g net carbs.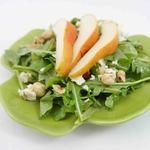 6. Arugula, Pear, and Hazelnut Salad
This Arugula, Pear, and Hazelnut salad is perfect to make in advance and pre-pack for office lunches. The base is fresh arugula, topped with chopped pears, crumbled gorgonzola cheese, and toasted hazelnuts. Toss the salad with our very own homemade Maple-Dijon Vinaigrette recipe right before you eat. Each serving contains 8g of net carbs.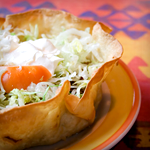 7. Taco Salad with Homemade Low Carb Tortilla Bowl
Our taco salad recipe is a delicious fiesta of flavors, but you can take your salad to the next level with a fresh homemade tortilla bowl. Just brush half a teaspoon of olive oil on a low carb tortilla, then mold and bake to hold its bowl shape in place. A tortilla salad bowl contains 3g of net carbs, and each serving of the taco salad contains 4g net carbs.
For more low carb salads to enjoy this spring, browse our Atkins Recipes.