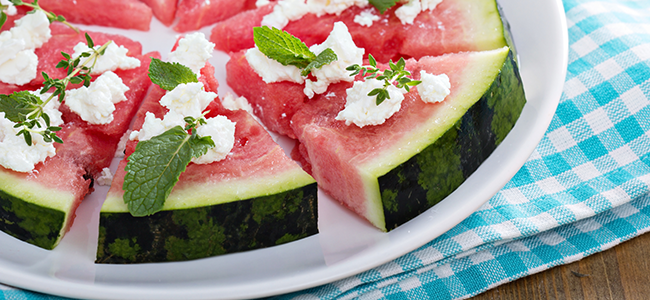 If there's one fruit that epitomizes summer, it's watermelon. Not only is this fruit refreshing, crisp, and sweet, but it also packs a nutritious punch. One cup of watermelon contains 11g of carbs, so you'll have to limit your consumption. If you're on Atkins 20 Phases 3 or 4, or Atkins 40, set aside time to salute this summer superfood.
Read on for the Atkins list of reasons why watermelon is the perfect summer snack.
Watermelon can help keep you hydrated.
Watermelon is aptly named because it's nearly 92% water. The fruit's juice is also full of electrolytes. A study in the Journal of Agricultural and Food Chemistry revealed that athletes who drank 16 ounces of watermelon juice an hour before exercise experienced less muscle soreness the following day. Bottoms up!
Watermelon has plenty of vitamins and minerals.
Watermelon contains high levels of vitamins A, B6, and C. Vitamin A helps maintain healthy skin and hair, while vitamin B6 promotes normal nerve function and the formation red blood cells. Vitamin C provides a boost to the immune system and offers protection from harmful free radicals that may accelerate aging.
Watermelon has been shown to protect against certain diseases.
Watermelon is packed with lycopene, an antioxidant linked to an array of health benefits. Studies have shown that lycopene can reduce the risk of heart disease and certain cancers, including prostate cancer.
Watermelon tastes best in summer.
Watermelon is in season for most of the warmer months: May through September. Be sure to sink your teeth into a refreshing slice. When selecting a melon at the supermarket, go for one that's heavy and makes a hollow noise when you knock on the rind.
Watermelon can even be part of a low carb meal.
If you want to promote this fruit from snack to entrée, try one of Atkins most popular watermelon recipes: Watermelon, Feta and Cucumber Salad. It also makes a great side dish for your next summer picnic.