If you're hosting a New Year's Eve party this year, you'll need plenty of tasty options to keep you and your guests satisfied until midnight. Show your friends and family first-hand how easy it is to make — and keep — weight loss resolutions by preparing Atkins-approved low carb snacks, desserts, and drinks everyone will enjoy. You can find hundreds of recipe ideas in our database, but here are a few exceptionally tasty New Year's Eve food ideas to help you ring in the new year on a delicious and healthy note.
Appetizers and Snacks
For many, New Year's is about making resolutions and setting intentions for the year to come, which can also mean following some superstitious traditions. Use the following recipes to incorporate a few of these lucky symbols into a variety of bite-sized apps and snacks.
Baked Artichoke-Parsley Cheese Squares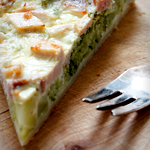 To encourage good fortune in the coming year, many people consume green (the color of cash) foods on New Year's Eve and New Year's Day. Made with several green ingredients like scallions, artichokes, oregano, and parsley, these Baked Artichoke-Parsley Cheese Squares are the perfect party snack to promote prosperity. And even if eating your greens doesn't make you rich, it will certainly make you healthy!
Crockpot Reuben Dip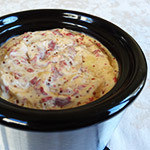 Crockpot appetizers are easy to assemble and require little of your attention after they're served, leaving you more time to relax and enjoy your evening. This Reuben Dip comes together in minutes and has 2g net carbs and 5.5g protein per serving. Serve with celery stalks for dipping or spread onto these Golden Flax Seed and Caraway Flatbreads.
Chipotle Chicken Bites with Creamy Blue Cheese Dip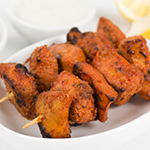 This low carb take on boneless chicken wings is the perfect New Year's Eve party food. Not only will you impress your guests, but eating high-protein foods like these Chipotle Chicken Bites with Creamy Blue Cheese Dip (32.8g protein per serving!) helps satisfy your appetite and keep other temptations at bay.
Salmon Stuffed Zucchini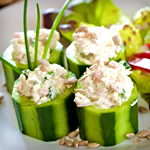 Because their scales resemble money, fish is also a popular food to eat around the new year for reasons similar to greens. Additionally, fish swim in schools which implies an association with abundance. To reel in a little luck of your own, add these low carb mini Salmon Stuffed Zucchini bites (1.2g net carbs, 5g protein per serving) to your menu of appetizers for New Year's.
Scallops Wrapped in Bacon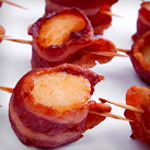 There's a superstition that pigs represent progress because they never move backward and push their snouts forward when they root for food. With 11.4g net carbs and 14.6g protein per serving, these Atkins-approved Scallops Wrapped in Bacon are a delicious and simple way to include pork in your New Year's spread. Serve them on toothpicks to make them even easier for your guests to grab and eat.
Mushrooms Stuffed with Sausage and Mozzarella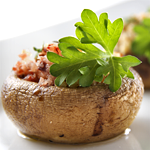 Round foods are popular for New Year's Eve since they represent coming full circle and resemble coins. If you're in search of savory round New Year's appetizers, these Mushrooms Stuffed with Sausage and Mozzarella with 0.7g net carbs and 2.6g protein per serving will certainly do the trick. Use pork sausage for even more New Year's blessings!
Sweet Treats
Balance the more savory snacks and appetizers on your New Year's Eve party menu with these sweet treats for you and your guests to enjoy… guilt-free.
Raspberry Cheesecake in a Cup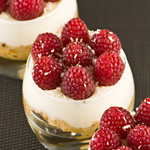 Sweeten up your New Year's Eve party and incorporate another circle-shaped food with this Raspberry Cheesecake in a Cup recipe. Made in easy-to-share, single-serving sized cups, these cheesecakes have 4.9g net carbs and 8.4g protein per serving.
Chocolate Peanut Butter Haystacks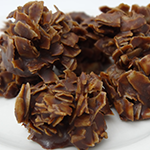 You'll never go wrong with the classic combination of peanut butter and chocolate found in these haystacks. Your guests will love these bite-sized treats, and the recipe is suitable for all Atkins phases except for the first two weeks of Induction due to the peanut butter.
Coconut Macaroons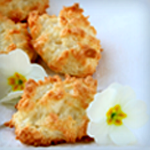 These light but decadent Coconut Macaroons are another great low carb, healthy dessert idea for New Year's celebrations. For a little added flavor, try lightly toasting the coconut before folding it into the mixture and baking.
Cocktails and Mocktails
Whether you're hosting a party or spending a low-key evening at home, what's a New Year's Eve celebration without something to toast with at midnight? Depending on the Atkins phase you are in, you can still sip alcoholic drinks in moderation, so here are a few cocktail and mocktail recipes for you to enjoy.
Ginger-Lemon Champagne Sparkler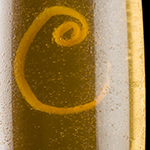 This Ginger-Lemon Champagne Sparkler recipe uses homemade, low carb simple syrup to create a light and elegant cocktail sure to have your friends and family saying cheers to the New Year.
Raspberry-Lime Fizz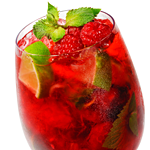 Enjoy a sparkling beverage without the alcohol with this eye-catching Raspberry-Lime Fizz recipe. Made with fresh raspberries, lime, mint, and club soda, this refreshing cocktail is easily mixed together in minutes.
Mulled Wine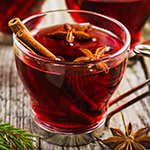 Combining the festive flavors of allspice, cloves, cinnamon, and citrus, this recipe for Mulled Wine will certainly warm up your evening and delight your guests. If you're feeling extra celebratory, try this Mulled Wine Cocktail recipe.
Hazelnut Hot Chocolate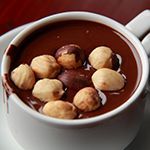 For another warm, but non-alcoholic, beverage option, try this low carb Hazelnut Hot Chocolate that is rich and satisfying enough to swap out your dessert for. The secret ingredient? Atkins Dark Chocolate Royale Shake!
This New Year's Eve, show your friends and family how easy it is to live low carb with Atkins on your side. With easy recipes and an abundance of free tools at your fingertips, reaching your weight loss and low carb goals can become a reality.