National Sandwich Day is November 3, and low carb lifestyle lovers need not fret! You too can celebrate with these quick and delicious recipes for low carb wraps and sandwiches.
Roast Beef and Cheddar Flatout Wrap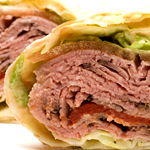 With roast beef, cheddar cheese, red onions, peppers, tomatoes, and lettuce, this sandwich recipe is ideal for National Sandwich Day. Ready in less than 10 minutes, this low carb wrap has 11.1g net carbs and 39.2g of protein per serving, making it a great option for those following Phases 3 or 4 of the Atkins diet.
Chicken Salad Wraps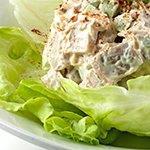 Skip the traditional wrap and slices of bread, and roll up your low carb sandwich with lettuce. The flavorful chicken salad is made with celery, mayonnaise, mustard, parsley, and chicken breast and is topped with radishes and paprika. With only 0.4g net carbs but packed with 33.8g of protein per serving, these chicken salad lettuce wraps are delicious and satisfying.
Roast Beef, Red Bell Pepper, and Provolone Lettuce Wraps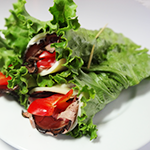 For another take on the lettuce wrap, enjoy this low carb wrap recipe made with roast beef, provolone cheese, red bell pepper, lettuce, mayonnaise, and horseradish. With only 2.7g net carbs per serving, this recipe is approved for those who are currently following any of the phases of the Atkins diet.
Bacon-Egg Salad Flatout Wrap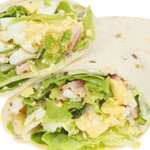 Why not pack in some protein on National Sandwich Day? For a tasty spin on a classic, try this bacon and egg salad flatout sandwich made with easy-to-assemble ingredients like hard boiled eggs, turkey bacon, mayonnaise, mustard, and lettuce. This low carb wrap recipe has 8.6g net carbs and 34.2g of protein per serving.
Strawberries and Cream Brownie Sandwiches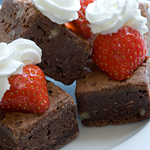 End National Sandwich day on a sweet note! Sandwich this whipped strawberry filling between two brownie-like cookies for a satisfying treat with only 4g net carbs per serving. You can also save these strawberries and cream brownie sandwiches for later and celebrate National Sandwich Day any day with this guilt-free dessert.
—
Those who are following a low carb diet shouldn't feel like they're missing out on anything! Check out over 1,600 of the easy low carb recipes we've created to help you enjoy the foods you love while still keeping up with your low carb diet and weight loss journey.
Enjoy National Sandwich Day!