Summer brings a bounty of seasonal produce, so it's fitting that June marks National Fresh Fruit and Vegetables Month. Now's the time to abandon any childhood aversions—fruits and veggies are not only packed with healthy vitamins and fiber, they're delicious! As proof, we've rounded up four recipes featuring some of the healthiest vegetables and fruits.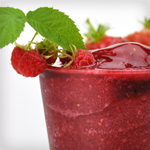 June is peak berry season, so there's no better time to enjoy the tart flavor and bright color of raspberries. This easy four-ingredient smoothie makes for a well-rounded breakfast, or energy-packed snack when you hit a mid-afternoon slump. One serving contains 18.1g of protein, 17.8g of fat, 7.1g of fiber, 10.8g of net carbs, and 291 calories.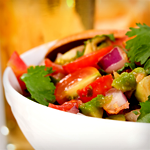 Who doesn't love creamy, delicious avocado? Packed with heart-healthy fats, potassium, and vitamins C and E, the so-called "alligator pear" forms the basis of this summery dip. Red onions, jalapenos, and tomatoes add color and flavor. Spoon it over a fish filet, or toss onto a salad. In each serving, you'll find 1.1g of protein, 5.3g of fat, 3g of fiber, 3.3g of net carbs, and 71 calories.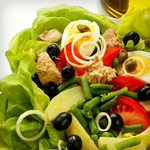 It's hard to think of a better way to enjoy fresh fruits and veggies than an abundant salad. This classic French variety incorporates green snap beans and red tomatoes with protein-packed tuna. We recommend laying it all onto a bed of spinach. There are 56g of protein, 42.6g of fat, 3.6g of fiber, 7.5g of net carbs, and 652 calories per serving.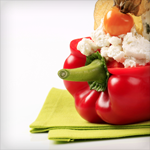 Baked Red Bell Peppers with Cherry Tomatoes and Feta
Bell peppers are bursting with Vitamin C (one cup contains 157% of your daily recommended value), but light on calories. Stuff them with savory feta, thyme, and basil for an easy dinner option. Cherry tomatoes add sweetness and even more vitamins. Each serving contains 3.2g of protein, 6.8g of fat, 1.9g of fiber, 4.6g of net carbs, and 97 calories.